Care Blog
BE FAST if Showing Symptoms of Stroke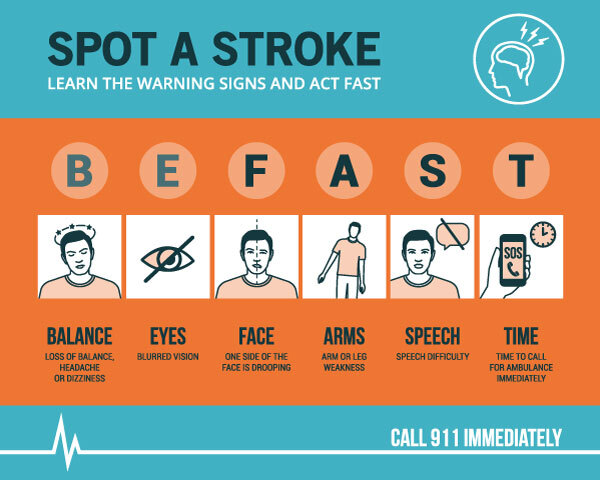 Stroke symptoms include:
SUDDEN numbness or weakness of face, arm or leg—especially on one side of the body.
SUDDEN trouble walking, dizziness, loss of balance or coordination.
SUDDEN confusion, trouble speaking or understanding.
SUDDEN trouble seeing in one or both eyes.
SUDDEN severe headache with no known cause.


If you or a loved one experiences any of these symptoms above, call 9-1-1 immediately. Note the time the first symptom was experienced. This information is important to a healthcare provider and can affect treatment decisions.
If a person has experienced ANY of these symptoms, he or she may have had a TIA or mini-stroke.
A transient ischemic attack (TIA) is an event, sometimes called a mini-stroke or stroke symptoms lasting less than 24 hours.
While TIAs generally do not cause permanent brain damage, they are a serious warning sign of stroke and should not be ignored.

Act F.A.S.T. courtesy of the National Stroke Association and BE FAST: Sushanth Aroor, Rajpreet Singh, Larry B. Goldstein. BE-FAST (Balance, Eyes, Face, Arm, Speech, Time). Stroke, 2017; 48 (2): 479 DOI: 10.1161/STROKEAHA.116.015169"


Click here to download a printable PDF of this page. Contact us today if you have any questions about stroke awareness or senior services Grants Pass and the surrounding area depend on.
Call Us Today
---
Call us today to schedule a free in-home care assessment so we can help you understand how you or a loved one can have a safe and happy life at home.
Take the Quiz
---
Let us know what kind of help you might need, and we'll be back in touch to customize a plan for you.
Take the Quiz