Compassion Only Works with Passion.
At New Horizons, we put people first: our caregivers, our clients, and our partners. Our dedicated caregivers and skilled nursing staff provide comprehensive in-home care for seniors who want to continue living at home, adults with disabilities, and medically fragile children.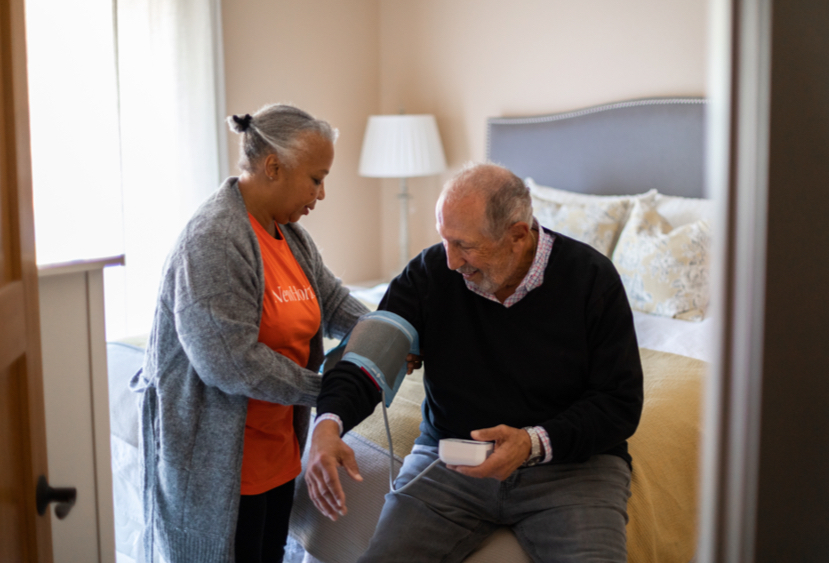 Join us in caring for our community.
Offering high-quality, personalized in-home care can address social determinants of health to improve health outcomes and achieve greater health equity. Just a few hours of in-home care a week can make the difference for some people, letting them stay in their homes, where they're comfortable and enjoy a higher quality of life. It's part of the reason we're so passionate about care. It's what's right for people and for our community.
Our caring technology tools such as remote patient monitoring and voice-activated medical alert speakers give clients the independence they often want, their families the peace of mind they crave, and us the connection we need to provide the best round-the-clock care possible.
We work with a wide range of partners in our mission to create a better life for everyone through comprehensive care and companionship. You can count on us to answer the phone at 2 am, we can provide care at a moment's notice, and we're here for you 24 hours a day, 7 days a week if you need it.
Services
---
Comprehensive, individualized care for the person.
What We Do
Call Us Today
---
Call us today to schedule a free in-home care assessment so we can help you understand how you or a loved one can have a safe and happy life at home.
Award Winning Service
---
Home Care Pulse recognizes New Horizons as among the best of home care, as both a care provider and an employer.
Get Started