What We Do
We take care of our community whenever and however they need it. Our in-home care is unsurpassed in the industry with the best team of dedicated caregivers and nursing support in Eugene, Albany, Salem, Florence, Roseburg, Medford, Klamath Falls, Grants Pass and surrounding areas to care for you 24 hours a day, 7 days a week.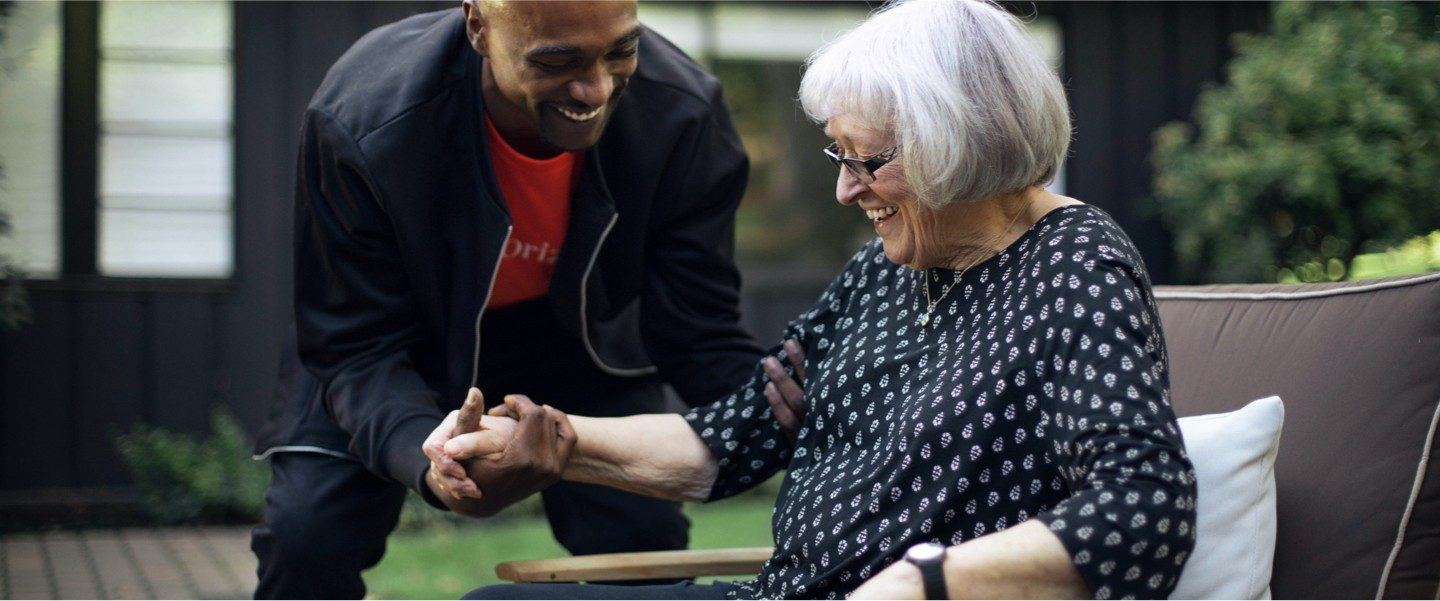 Hurshel, Caregiver & Cornelia, Client
Expansive Care Doesn't Mean Expensive Care.
Everyone we care for receives personalized care. Our experienced team evaluates your unique needs, which may change over time, and introduces you to a team of caregivers and nurses based on your personal interests and needs. Our goal is to help you live the most fulfilling life you can, especially at home.
We care for people, doing everything we can, doing it right, and doing it with kindness. We focus on your well-being to promote personal dignity, health and happiness.
My caregiver is wonderful. They do so much for me that I can't do for myself. I don't know what I'd do without their services.
Denise B.
New Horizons Client
Intellectual and Developmental Disability Care
---
New Horizons has a dedicated staff who are specially trained to serve individuals with intellectual and developmental disabilities such as autism, Down syndrome, cerebral palsy, ADHD, and fetal alcohol syndrome. Whether you only need a few check-ins a week and assistance with transportation or you're looking for more complex medical care—we can provide as little or as much assistance as you need.
Behavioral Support
Our team of highly trained behavioral specialists develop positive behavior support strategies, rooted in the practice of proactive behavior methods. We aim to identify and minimize triggers, establish clear routines to ease anxiety, and offer praise for the behaviors we want to see, rather than acknowledging undesired behavior.
Learn More
Community Living Support
We help individuals meet their goals and live independently both in the home and in the community. Everyone we care for receives personalized care—some individuals only need a few check-ins a week, while others may require more assistance with schedule building, hygiene assistance, and meal preparation. We're here to give as much or as little support as you need.
Learn More
High Medical Support
Our team of highly skilled registered nurses provide care to individuals who have more complex medical needs and/or require 24-hour care.
Learn More
New Horizons provides exceptional care for my medically fragile daughter, helping her to continue to live a comfortable and happy life at home with her family.
Molly C.
New Horizons Client
Call Us Today
---
Call us today to schedule a free in-home care assessment so we can help you understand how you or a loved one can have a safe and happy life at home.
Take the Quiz
---
Let us know what kind of help you might need, and we'll be back in touch to customize a plan for you.
Take the Quiz