Care Blog
Can You Train Your Brain with Online Memory Games?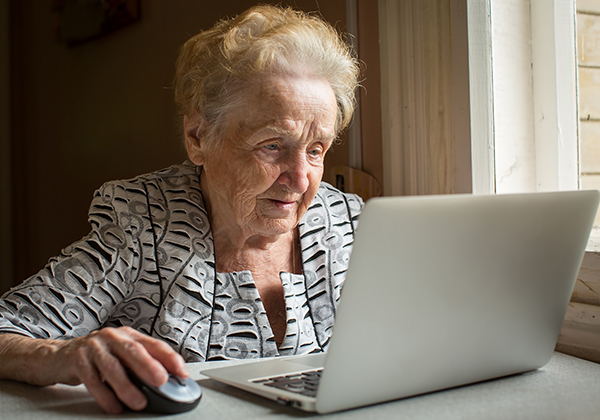 The online world supplies us with instantaneous answers to any question it is possible to imagine, educational opportunities beyond what we might have thought of a generation back, socialization enhancement, and so much more. One of the most fascinating online developments for those of us in the senior care profession has been brain training programs – the computerized mind games and puzzles that train your brain to improve cognitive functioning. But exactly how well do they actually do the job?
AARP has been recently investigating just that, sharing results in an interesting report, Engage Your Brain. Even though additional studies are needed to better comprehend the long-term results of mind-stimulating activities, what we can say for certain is that neuron connections can be reinforced through learning, resulting in the brain's ability to transform structure, function, and chemistry, a concept known as brain plasticity. And this ability continues to be in place as the mind ages.
In one particular study, the Advanced Cognitive Training for Independent and Vital Elderly (ACTIVE), seniors' cognitive performance as well as memory revealed an astounding change for the better of close to 63% when working with Internet-based cognitive training applications. Moreover, seniors who took part in the research showed a 48% less chance of causing car accidents, and could actually more effectively manage such daily duties as money management, taking medicines, and more.
Dr. Michael Merzenich, co-founder of Posit Science (creators of the Brain HQ program), has managed a series of clinical trials to better pinpoint the end results of certain online brain strengthening programs, particularly, whether cognitive decline can be reduced or slowed. The final results suggested a noticeable improvement in memory, with participants' memory recall equivalent to people 10 years their junior. Alternatively, exercises like crossword puzzles failed to reveal a direct effect on cognitive decline, with older persons who regularly engage in crossword puzzles still trailing young adults in their particular degree of functioning. And yet, when compared to other seniors who did not work on crossword puzzles, functioning does seem to be somewhat improved. Dr. Merzenich describes it as, "Crossword puzzles might improve your cognitive function, but it's equally likely that having good cognitive function encourages you to do crossword puzzles." Dr. Merzenich talks about his results in more depth in this TED Talk.
It is necessary for consumers to sufficiently investigate online training programs that guarantee to increase a senior's memory or cognitive performance level, since there have been a number of businesses recently who've been shown to wrongly advertise these types of promises.
All Care In-Home Care Solutions supplies opportunities for older persons throughout Oregon's Rogue Valley to optimize cognitive functioning through train your brain games, reminiscing, socialization and even more. Contact us or call us at (541) 857-9195 for in home care Ashland and the surrounding area trusts!
Call Us Today
---
Call us today to schedule a free in-home care assessment so we can help you understand how you or a loved one can have a safe and happy life at home.
Take the Quiz
---
Let us know what kind of help you might need, and we'll be back in touch to customize a plan for you.
Take the Quiz