Care Blog
Dementia Diagnosis? Here's Some GOOD News!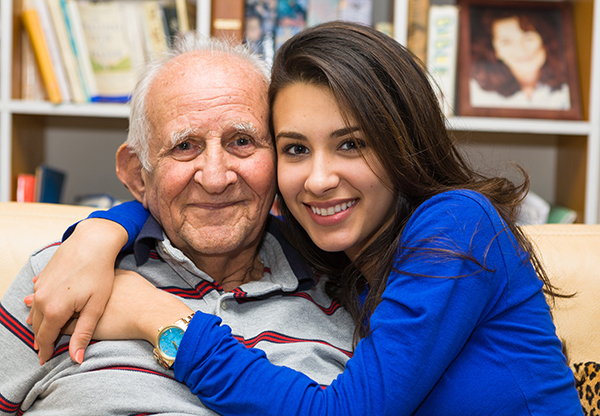 Try bringing up a loved one's dementia diagnosis at your next summer pool party or barbecue, and watch the overall mood of your guests quickly change from celebratory to somber. Whether you've witnessed it firsthand or know only about this disease through what you've read, typically the experience has involved negative connotations. And as there is still not yet a cure, it's only natural that a dementia diagnosis in a loved one triggers numerous concerns.
What isn't typically talked about - if at all - are the bright parts of dementia. Actually, research has shown that as few as 25% of individuals with mild or moderate dementia self-describe their lives as negative. According to Dr. Peter Rabins, author of "The 36-Hour Day" in which the study is highlighted, and a professor at the University of Maryland, "I've seen that you can be a wonderful grandparent and not remember the name of the grandchild you adore. You can be with people you love and enjoy them, even if you're not following the whole conversation."
It helps to consider that despite the outward changes noticed in people with Alzheimer's or dementia, they are still the same person inside with many of the very same character traits and feelings as always. They appreciate being in a relationship with others, find comfort in familiar surroundings, and like meaningful, purposeful things to do. It's a matter of spending some time to better understand the particular person and devoting quality time to engaging in pastimes that he or she really loves.
There are a number of ways one can help foster wellbeing and a favorable mindset for a family member with Alzheimer's or dementia, even while the disease advances. Helping a loved one with socialization is one of our top recommendations. Many family members are fearful and uneasy around their family member with dementia, and as a result, are more likely to cut back on visits or even just abandon them altogether. It's imperative to look for ways to help your family member stay socially connected. Continue to visit, and engage the services of a professional in-home caregiver, such as All Care's southern Oregon home care provides, to fill in the gaps.
Call us at (541) 857-9195 for further ideas or to discuss more ways to help a family member with dementia enhance total wellbeing. Our professionally trained Alzheimer's and dementia care team is available to deliver dependable respite services, allowing members of the family vital time away to rest and refresh, knowing their family member is in the very best of care.
Call Us Today
---
Call us today to schedule a free in-home care assessment so we can help you understand how you or a loved one can have a safe and happy life at home.
Take the Quiz
---
Let us know what kind of help you might need, and we'll be back in touch to customize a plan for you.
Take the Quiz