Care Blog
Holiday Traditions Around the World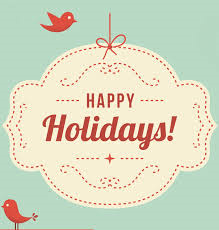 During the holidays we hear and use the term "Holiday Traditions". These traditions can be ones that have been in the family for generations, new family traditions, and common traditions celebrated in the country. For example, in my family, it is always tradition to have "white elephant gifts" at our family holiday party for exchange. A common tradition in the US is putting up a Christmas trees and Christmas lights to show our holiday spirit. Holidays at this time are celebrated all around the world, but interestingly we all have different traditions.
Hanukkah
A common tradition that is well known for this holiday is the menorah. The menorah has 9 candles, 8 of which are lit for each day of Hanukkah and the other is for lighting the candles. The 8 days of lighting the candles come from an ancient tradition to remember the miracle in which one day's worth of oil burned for eight days in their temple.
St. Lucia Day
To honor this third-century saint on December 13, many girls in Sweden dress up as "Lucia brides" in long white gowns with red sashes, and a wreath of burning candles on their heads. They wake up their families by singing songs and bringing them coffee and twisted saffron buns called "Lucia cats."
Kwanzaa
Kwanzaa, meaning "first fruits, is an ancient tradition still celebrated at African harvest festivals. This is to celebrate ideals such as family life and unity. Their spiritual holiday is celebrated from December 26
th
- January 1
st
which consists of African Americans dressing in special clothes, decorating their homes with fruits and vegetables, and lighting a candleholder called a Kinara.
New Year
On December 31
st
it is custom for Ecuador Families to dress a straw man in old clothes, representing the old year. Along with dressing the straw man, the family members make a will that lists all of their faults. When midnight strikes they burn the straw man with hopes of their faults disappearing as well.
Chinese New Year
It is common for the children in China to wear new clothes in celebration of the Chinese New Year. A parade is led by a silk dragon followed by people carrying lanterns behind. Legends say that the dragon hibernates for most of the year and on this day people throw firecrackers to keep the dragon awake.
Call Us Today
---
Call us today to schedule a free in-home care assessment so we can help you understand how you or a loved one can have a safe and happy life at home.
Take the Quiz
---
Let us know what kind of help you might need, and we'll be back in touch to customize a plan for you.
Take the Quiz