Care Blog
How to Overcome Roadblocks to Improving Senior Fitness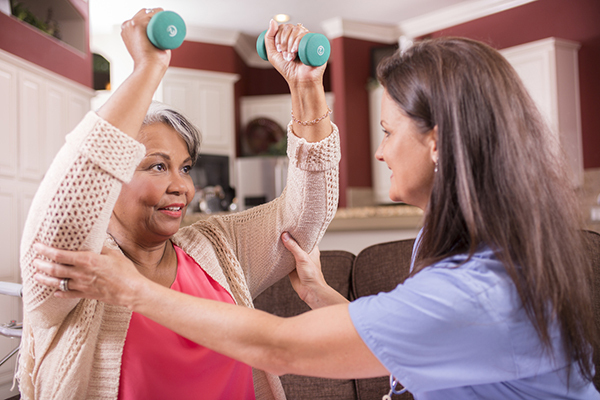 Stepping into a routine exercise schedule is daunting at any age. Exercising is tedious. We would prefer not to expend the time. We're feeling aches and pains from yesterday's physical exertion. We've all made excuses such as these for not staying physically fit. Frailty and advanced age make it even more challenging to follow an exercise plan and maintain senior fitness.
All Care wants to help older individuals remain as active as possible with recommendations to combat the following typical senior fitness barriers:
Self-confidence: It's natural for seniors to feel stressed with the idea of achieving exercise objectives. It can be beneficial to start slowly with exercises that are easy to master and progress over time; and, encourage the senior frequently.
Attitude: Attitude is so crucial when it comes to senior fitness. If approached in a negative way, it will be much tougher to maintain an effective exercise routine. Pick activities that will be enjoyable and that the senior will look forward to.
Pain: The saying, "No pain, no gain" actually isn't true. Older adults should steer clear of overdoing it, and decrease the intensity level if feeling pain or discomfort.
Disabilities: Aging adults with physical or cognitive limitations can and should continue to remain active in accordance with their ability level. Check with the health practitioner for a referral to a personal trainer or physical therapist who can put together a program of specialized exercises.
Fear of Injury/Balance Problems: There are a full range of adaptive devices to permit safe, effective exercising while still improving senior fitness.
Financial Concerns: It does not have to cost a huge amount of money to remain fit! Walking and other basic exercises in and around the senior's home, using typical household items can be incorporated into an exercise regimen at little to no cost.
Illness or Fatigue: Exercises can be personalized to match the older individual's energy level, and he or she may steadily increase the endurance level over time.
Keep in mind that the secret to maintaining positive results with a senior fitness regimen is to make sure that the senior feels comfortable and safe with the strategy and the exercises. If pain is experienced in muscles or joints the next day after exercising, a lesser intensity can be implemented; and check with the physician if the pain or discomfort persists.
All Care's caregivers will work hand in hand with your loved one's physician to establish a safe exercise plan in accordance with his or her abilities to increase strength, independence, and overall quality of life. Call us at 541-857-9195 to learn more about the rewards of daily exercise in improving senior fitness and to learn more about how our Medford home care services and in-home care for the surrounding areas can help!
Call Us Today
---
Call us today to schedule a free in-home care assessment so we can help you understand how you or a loved one can have a safe and happy life at home.
Take the Quiz
---
Let us know what kind of help you might need, and we'll be back in touch to customize a plan for you.
Take the Quiz