Care Blog
The Secret to a Successful Transition of Care from Hospital to Home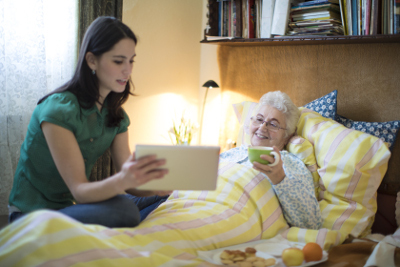 Healing after surgery can take some time, specifically for seniors. Not only are older bodies slower to heal, but paired with reduced mobility and all kinds of directions for medications, physical activities, follow-up appointments, and nutritional limitations, there is a lot to keep track of after surgery.
In a study led by IPC, The Hospitalist Company, nearly one in five discharged patients needed assistance in a minimum of one area that had the possibility to impact their recovery. Other similar studies show that bringing in help for care transitions decreases hospital readmissions.
As Klamath Fall's premier home care agency, All Care In-Home Care Solutions is available to help your senior loved one make a safe transition of care from hospital to home by offering reliable in-home care to help toward recovery. We can start assistance with post-discharge planning shortly after admission to the hospital to assess your senior loved one's needs, ensuring coordinated efforts and continuity of care.
We can work together with the hospital care team to carry out a recovery plan that includes:
Scheduled follow-up appointments
List of medications, allergies and dietary restrictions
Activity and exercise plans
Necessary medical equipment
List of medical issues and how to respond to anticipated symptoms
Once at home, we can:
Prepare diet-specific, nourishing meals
Help with bathing and dressing
Make sure medications are taken on schedule
Help link the senior with community resources
Provide transportation for medical appointments
Here is one example of a family who used our Klamath Fall senior care services:
Mr. L's adult daughter is a busy working mother. When Mr. L needed a minor surgery, his daughter wasn't sure how she could possibly take care of her father's care once he was discharged. All Care In-Home Care Solutions was there to help.
By providing routine visits, one of our expertly trained in-home caregivers monitored Mr. L, including his diet and activity levels, making sure medications were taken on time and the physician's plan of care was implemented according to directions. We delivered post-visit reports to Mr. L's family, keeping them current on his recovery and notifying them instantly for any cause for concern or observation of first signs of problems that could trigger a readmission to the hospital. Additionally, we continuously reviewed Mr. L's care plan for progress towards goals and any care changes that should be recommended were brought to the doctor's attention. For more stories like Mr. L's, see what other happy customers of ours have said.
We recognize that many older adults would prefer to recover in the comfort and familiarity of home. By partnering with you and implementing the doctor's instructions, All Care In-Home Care Solutions' compassionate and professional staff can carry out a plan best suited to care for your senior loved one.
Making the transition home successful, and keeping your senior loved one on the road to recovery is our top priority. Call our Klamath Falls home care office today at (541) 887-2909 or fill out our online contact form to schedule an in-home consultation. We'd love to meet you and learn more about how we can help you and your aging loved one with our wide range of Klamath Falls senior care services.
SaveSave
Call Us Today
---
Call us today to schedule a free in-home care assessment so we can help you understand how you or a loved one can have a safe and happy life at home.
Take the Quiz
---
Let us know what kind of help you might need, and we'll be back in touch to customize a plan for you.
Take the Quiz