Care Blog
How Home Care Agencies Are Helping Reduce Hospital Readmission Rates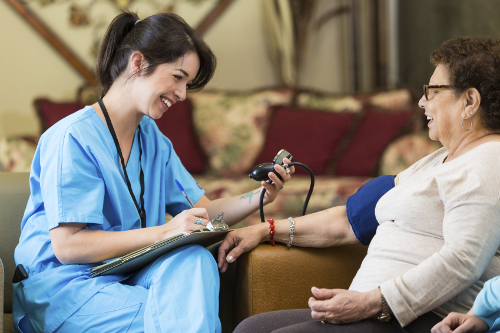 Nowadays, decreasing hospital readmission rates for high-risk patients is a vital process for hospitals. Healthcare Financial Management Association's article "Two Ways Hospitals Can Reduce Avoidable Readmissions" records that effective initiatives from four hospitals with low 30-day rehospitalization occurrences are, to a degree, due to collaborating with inpatient and outpatient home care providers like the Rogue Valley's All Care In-Home Care Solutions to supply a continuum of care.
The hospitals cited in the article offer the following suggestions to lower readmissions:
Initiate preparations for a patient's discharge on the day of admission. When an older adult is hospitalized, contact a home care agency, like All Care In-Home Care Solutions, to implement a plan for in-home care when the patient is released to go home. Outcomes improve when help is made available as soon as possible.
Make note of older adults who are at high risk for difficulties after being discharged for enhanced care coordination and/or case management. (Make sure social workers visit all patients who are over age 80 to help with care needs.)
Make use of technology to evaluate, track, or refer patients.
Do a comprehensive evaluation of the patient's risk factors, care needs, readily available resources, knowledge of the disease or condition, and degree of family support.
All Care In-Home Care Solutions of Oregon's Rogue Valley knows how critical it is to establish a transitional care plan in order to reduce the chance of hospital readmission for seniors. We can help clients plan for care starting on day one of their hospital admission, monitor their health and make certain that care plans are put into practice once they arrive home. Give us a call at (541) 857-9195 or complete our simple online contact form to learn more about how we can help seniors transition from hospital to home through professional services such as:
Lowering fall risks in the home by providing a safety assessment of the home, assistance with ambulation and showering, etc.
Making sure medications are taken exactly as prescribed
Keeping an eye out for any medication side effects or other post-hospitalization concerns
Keep your senior loved ones safe and well with a little help from the team of Rogue Valley in-home care experts at All Care In-Home Care Solutions!
SaveSave
Call Us Today
---
Call us today to schedule a free in-home care assessment so we can help you understand how you or a loved one can have a safe and happy life at home.
Take the Quiz
---
Let us know what kind of help you might need, and we'll be back in touch to customize a plan for you.
Take the Quiz