Care Blog
The Relationship Between Chronic Stress and Dementia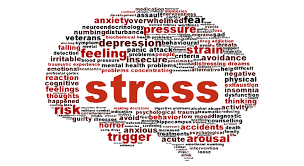 There is new research on the relationship of stress and dementia which was published in the January issue of
Current Opinion of Psychiatry.
Rothman Research Institute at Baycres Health Sciences recently conducted a study that found people who experienced chronic stress; including, anxiety, fear and stress were more precursors to dementia. When these psychiatric issues are only occasional and temporary, for example before an exam, they are not harmful. However, when these short-term reactions become chronic (long-term) they can have an impact on one's health. Chronic stress can cause a serious impact on your immune and cardiovascular system. Pathological anxiety and chronic stress are associated with increased risk of neuropsychiatric diseases, including depression and dementia. Current research has emphasized interventions such as exercise, mindfulness and cognitive behavior therapy will often help in reducing this type of stress. There are numerous ways a person can get the right kind of exercise. A person does not need to become a marathon runner, or super weight trainer to get adequate exercise for their brain health. Some of the best types of exercise is walking and swimming. You do not need to know how to swim as many local gyms have water aerobics where the person who does not swim is supported by a belt that keeps the person afloat. If a person is not able to walk there are numerous exercises one can do from a chair or bed. Check with your local adult activity center to find the right exercise class for you. For more tips to help a senior you love exercise and remain active, contact
New Horizons In-Home Care
, providers of home care
Salem and the surrounding area
trusts.
Reach out to us today
at the office nearest you: Eugene:
541-687-8851
; Corvallis:
541-752-9059
; Salem:
503-400-3000
; Florence:
541-997-8115
.
Call Us Today
---
Call us today to schedule a free in-home care assessment so we can help you understand how you or a loved one can have a safe and happy life at home.
Take the Quiz
---
Let us know what kind of help you might need, and we'll be back in touch to customize a plan for you.
Take the Quiz