Care Blog
Tips for Caring for a Senior with Alzheimer's During COVID-19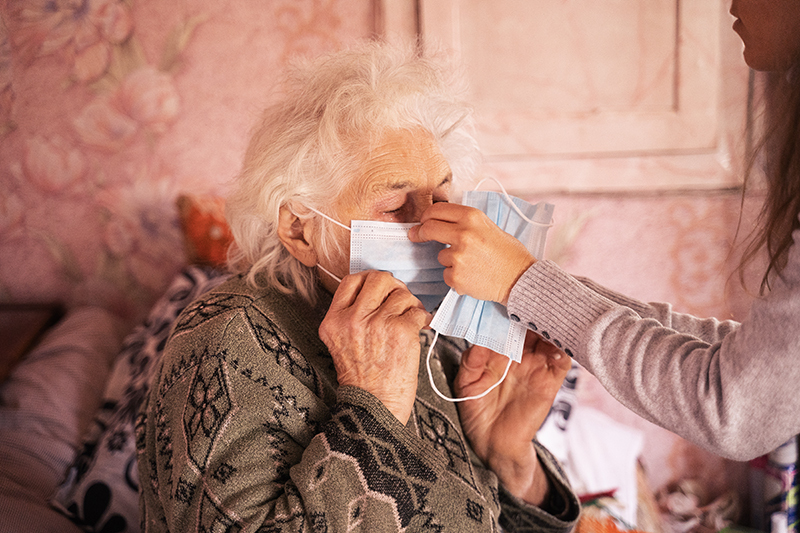 Providing home care assistance for a senior with Alzheimer's can be challenging under the best of scenarios; add in a worldwide pandemic, one that calls for social distancing, gloves and masks, and careful sterilization of both ourselves and our home environment, and the challenge may seem insurmountable.
New Horizons' Alzheimer's care team provides the following guidelines to help reduce fear and frustration for individuals diagnosed with Alzheimer's, while keeping both them and their caregivers safe:
Be sure to make self-care a top priority. Now more than ever before, it is important to gauge your own personal level of stress, and make a plan to make certain you are healthy – both physically and emotionally. You can only supply the best caregiving help for your loved one if your own needs are met. This could possibly mean restricting time spent watching the news as well as on social media, maintaining connections with close friends and family, and taking time for pleasant, rewarding hobbies.
Take care of personal hygiene. Proper handwashing techniques are vital for all of us, but might be hard for a senior with Alzheimer's to uphold. Depending on the individual's stage of the disease, it might be beneficial to wash your hands with each other, demonstrating for your loved one; or, position signs next to the sink in the bathroom and kitchen with a reminder to scrub for 20 seconds. And keep in mind that repetition, a typical behavior in dementia, can work to your advantage in this case.
Choose your words carefully. When speaking to a loved one about changes related to COVID-19, it's critical to keep it very simple, utilizing a calm and reassuring tone. Beth Kallmyer, Vice President of Care and Support at the Alzheimer's Association, recommends statements such as, "We have to stay inside because that's most safe for us, but we'll do it together. I'll be with you and we'll be okay."
Be sure to have a backup plan. In case you contract COVID-19 or another health condition that would prevent you from safely providing help for a loved one with dementia, it's vital to have a plan in place for who could take over to execute your care duties. A professional home care agency, such as New Horizons, is the perfect choice, with aides who are knowledgeable in specialized dementia care.
Allow New Horizons In-Home Care, the experts in eldercare in Eugene and the surrounding areas, to help you. Our highly skilled Alzheimer's caregivers are fully trained and experienced in both following proper protocol linked to decreasing the danger for contracting coronavirus, and in the specialized types of care that are most effective for a senior with Alzheimer's disease. Reach out to New Horizons' Eugene eldercare experts at 541-687-8851. Or contact an one of our offices nearest you: 541-752-9059 in Corvallis; 503-400-3000 in Salem; or 541-997-8115 in Florence to schedule an assessment within the safety and comfort of home and to find out more about how we can help your loved ones. To see our full service area, click here.
Call Us Today
---
Call us today to schedule a free in-home care assessment so we can help you understand how you or a loved one can have a safe and happy life at home.
Take the Quiz
---
Let us know what kind of help you might need, and we'll be back in touch to customize a plan for you.
Take the Quiz